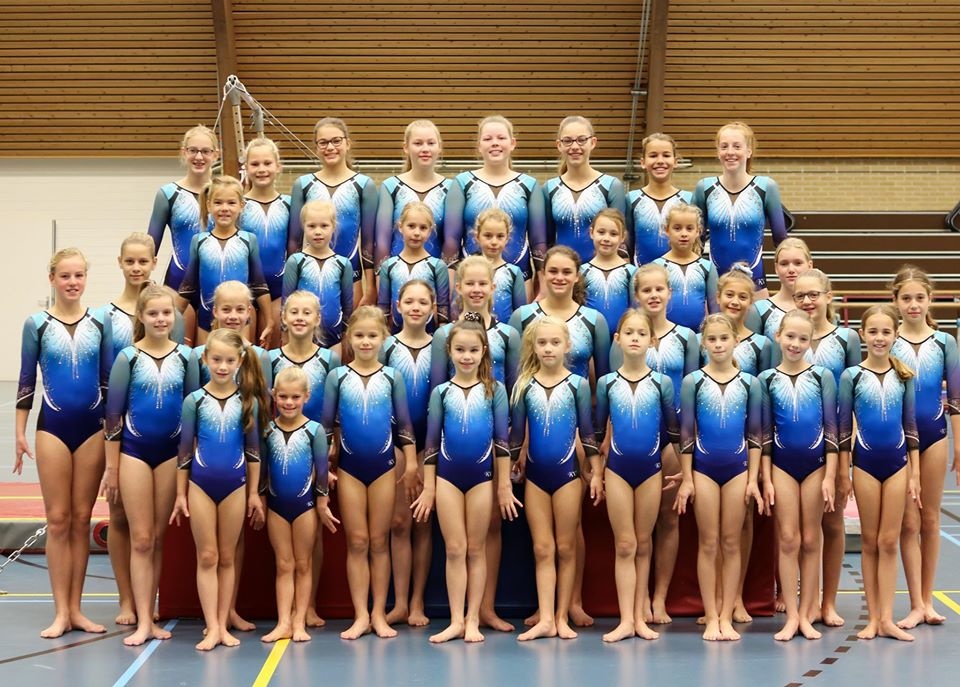 Why choose KV for your new club leotards? 
Looking for a new club leotard? Don't look any further. At KV we make leotards, shorts and scrunchies in all price ranges. We design and manufacture all our leotards ourself to guarantee high quality garments. Whether, you're looking for new leotards for your youngest gymnasts or looking for a very sparkly unique leotard for your highest level gymnasts? We can make it. If you're interested in our leotards, please let us know. We will make you a few designs based on your wishes without charge. You don't have to pay any design fee, since we have our own designers. We are masters in Photoshop, Illustrator, InDesign and Procreate which results in unique and gorgeous looking leotards. We use industrial sewing machines and use the best fabrics and crystals so your leotards will last forever. In short: we're a professional leotard producer with several years of experience. We offer good quality garments and a good service. Nothing more, nothing less. 
Want to know what differentiates us from other companies? Check our benefits below
KV Leotards is a professional business with a fast growing clientele (also worldwide) 
We design and manufacture all our leotards ourself to guarantee high quality garments 
Good prices and the best quality. Why? Because we love what we do and we love gymnastics even more 
In 2022 we produced over 2000 leotards for over 35 clubs in The Netherlands, Belgium, Germany, Luxemburg and Portugal.
We only use our own KV Crystals: guaranteed the best bling and sparkle! 
Usage of a range of best quality fabrics: sublimation on lycra and mesh available
Digital design made in-house with designer programs like Photoshop, Illustrator, InDesign and Procreate. Everything can be adapted to your wishes. 
Understanding of the current FIG rules and regulation regarding leotards 
Bulk rates for clubs start at 15+ leotards. The higher the ordered amount of leotards, the higher the discount we can offer you. 
Prices start at €39,- for sleeveless leotards and €68 for sleeved leotards 
Backorders can be made for 5 years and there's no minimum order quantity 
Our leotards come in a luxury ziplock bag with washing instructions and, if requested, spare crystals 
We have leotards/shorts available for fitting and determining sizes. You can borrow these leotards/shorts for free
Matching scrunchies, shorts, leggings and tops can be made. Personalization available.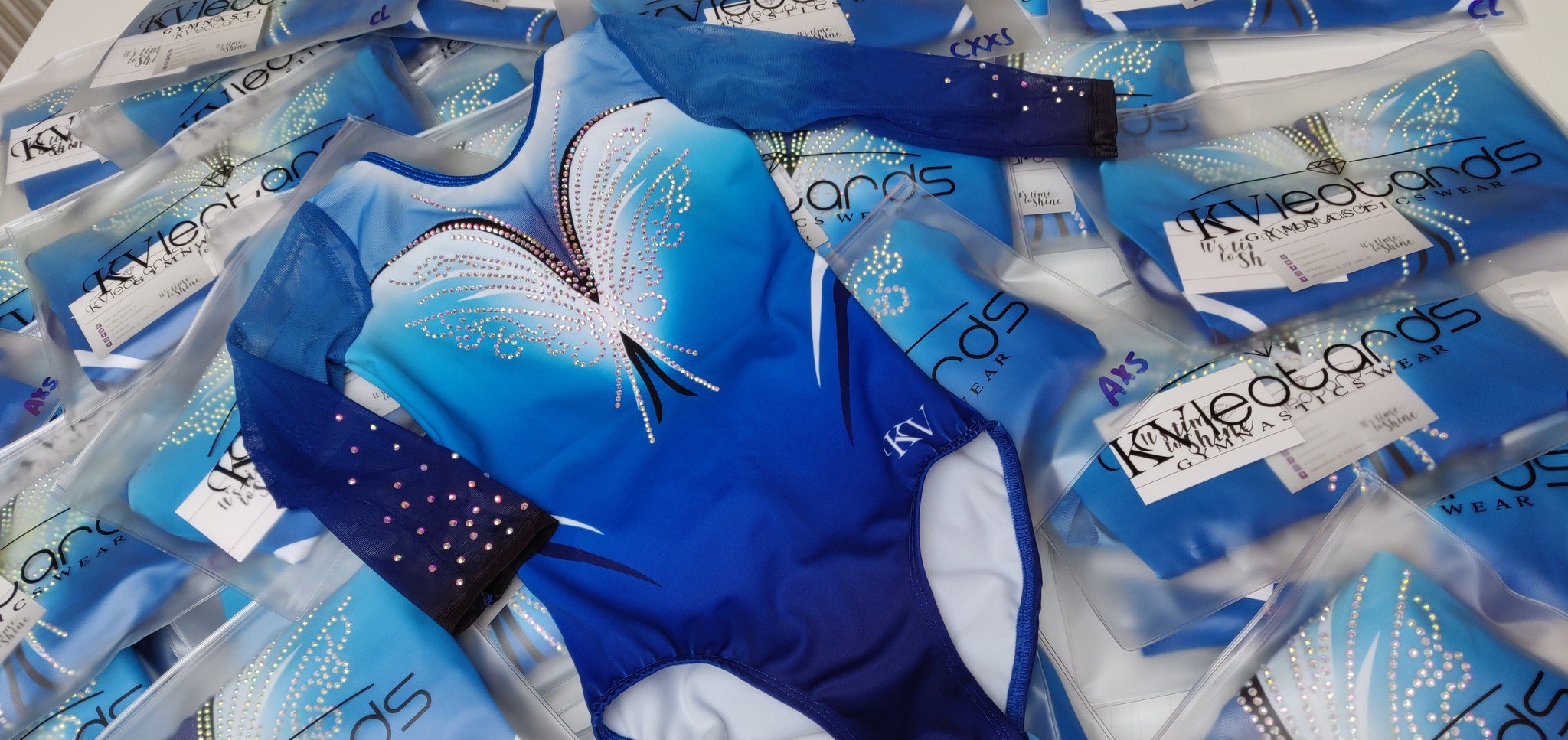 Procedure
Interested in our services? We will share some information about how we work
Wishes and design: 
If you contact us for ordering leotards for your club, we would like to know a few things. First, we would like to know how many leotards you approximately need. The higher the ordered amount, the lower the prices. Also, we would like to know who will we wearing the leotards: what level/age are they? Finally we would like to hear your wishes regarding the design. Please tell us what your preferences are for the length of the sleeves, the colors, the neckline, fabrics, crystals etc. We will then make you some designs, without charge. If you like these designs and are pleased with the way we work you can decide to continue our journey. 
Trial leotards and determining sizes 
If you're pleased with the designs we made for you and you're curious about how the chosen materials will look in real life? You can order a trial leotard with 25% discount on the normal price. When you're then satisfied with the trial leotard we have leotards available for fitting which we can send you. With these leotards and our size guide you can easily determine the sizes needed. If you would like to make any changes to the leotard pattern, for example a lower neckline please let us know so we can adjust it. 
Contract and payments 
After you give us information about the desired sizes and numbers, we will draw up a contract which contains agreements about the order, the delivery, payments, details about the design, copyrights, guarantees etc. It will act as a guideline and guarantee for both parties. We always work with contracts to remove any possible ambiguity. If this contract is signed by both parties we will ask you to make the first payment, which is 50% of the total amount. The other half of the amount has to be paid before shipping. We will send photo's and video's of your order before shipping so you can check the quality. 
Interested in our services? Please send an email to

[email protected]

or call +31653815064 and we'll be happy to help you. 
Our work 
Curious about our work? Check our club leotards from last years below