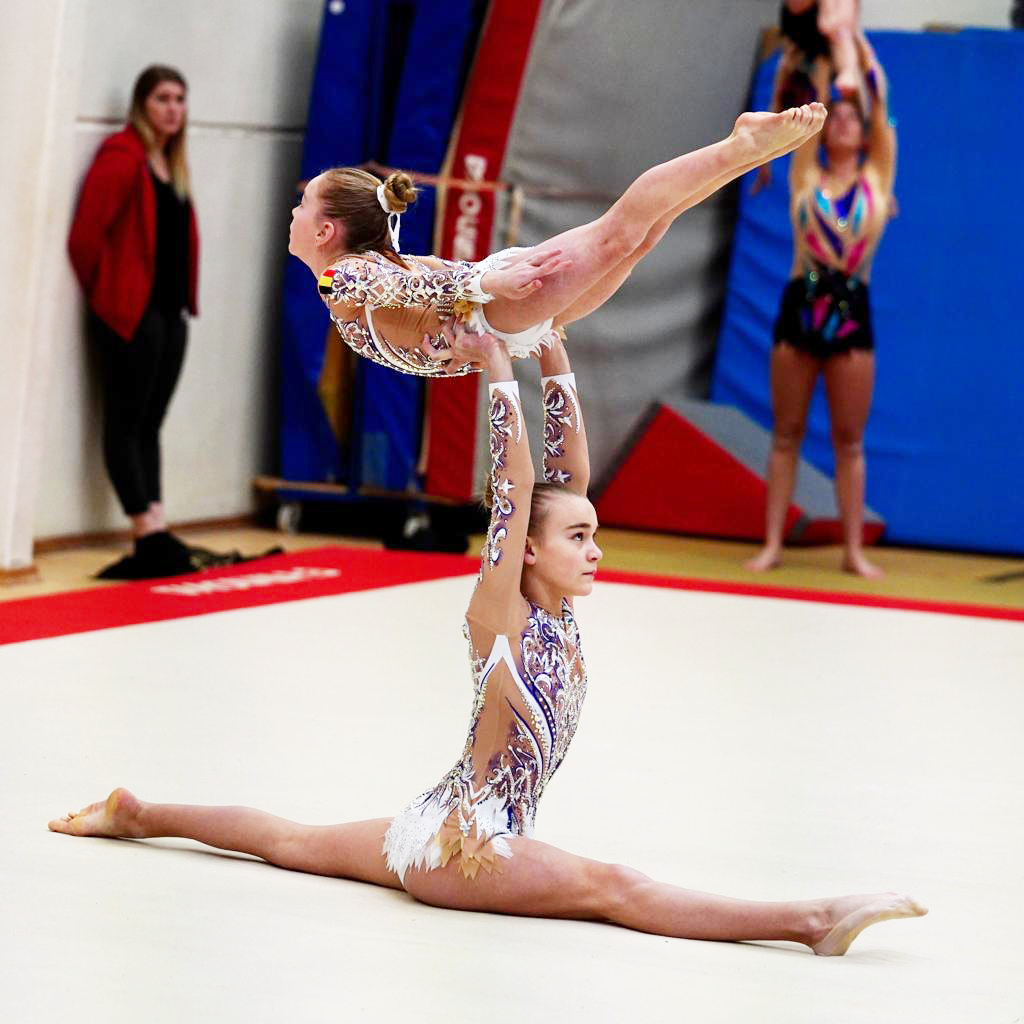 Because of our limited capacity we have decided to not make any Exclusive Leotards this season. Next year (for season 2024-2025) we will be ready to make some gorgeous leotards for hopefully a lot of acrobatic gymnasts. Do you still want to buy an acrobatic leotards from KV? Have a look at our collection. Online on 03-09-2023
The one and only sewing atelier for the best acrobatic and artistic gymnastics. 
Our Exclusive leotards are KV's beloved showpieces. These unique leotards are all handmade, tailored to fit every gymnast and designed to your choreography and routine music. Whatever your are looking for in a leotard: if you can dream it, we can make it! Our design and sewing team consists of former acrobatic and artistic gymnasts, licensed FIG judges and coaches:we possess the knowledge and experience to make you your perfect leotard that matches your wishes and the artistic character of your routine. Are you looking for craftsmanship: KV Leotards is here to serve you. 
KV Leotards: The icing on the cake
At KV Leotards we try to give our customers not only a leotard, but also an experience. We provide the best service which will make you feel like a queen. Gymnasts will be invited to our atelier in Meijel (Limburg, The Netherlands) to measure their sizes and hear out their wishes. There is an option to take a look behind the scenes and see how we make around 200 exclusive leotards a year. During your first appointment you can share your whishes and preferences while we share our advise and experience to design the best leotard for you. Coaches and choreographers are more then welcome to join your appointments. When your unique leotard is finished, you'll receive your leotard in a beautiful KV garment bag along with washing instructions, a certificate of authenticity, spare crystals and a personal thank you note. Our exclusive leotards are not a cheap purchase, but we promise it's worth the price. We only work with the best fabrics and crystals and our leotards have a perfect fit for every gymnast. Our designs are unique and will definitely turn heads when you enter the competition floor. Leotards from KV are the icing on your cake. All those training hours and hard work may be rewarded, right? Yes! It's your time to Shine!
While making our leotards we work with different kinds of fabrics and crystals to give the leotards a luxury appearance. By combining different techniques and styles as sublimation printing and classic fabrics we create stunning effects. You wil definitely stand out from the crowd! 

We are specialized in garments for acrobatic, rhythmic and artistic gymnastics. Would you like us to make an exclusive garment for other sports or events? Please contact us to discuss the possibilities. You can contact us by e-mail: [email protected] or by phone: +31653815064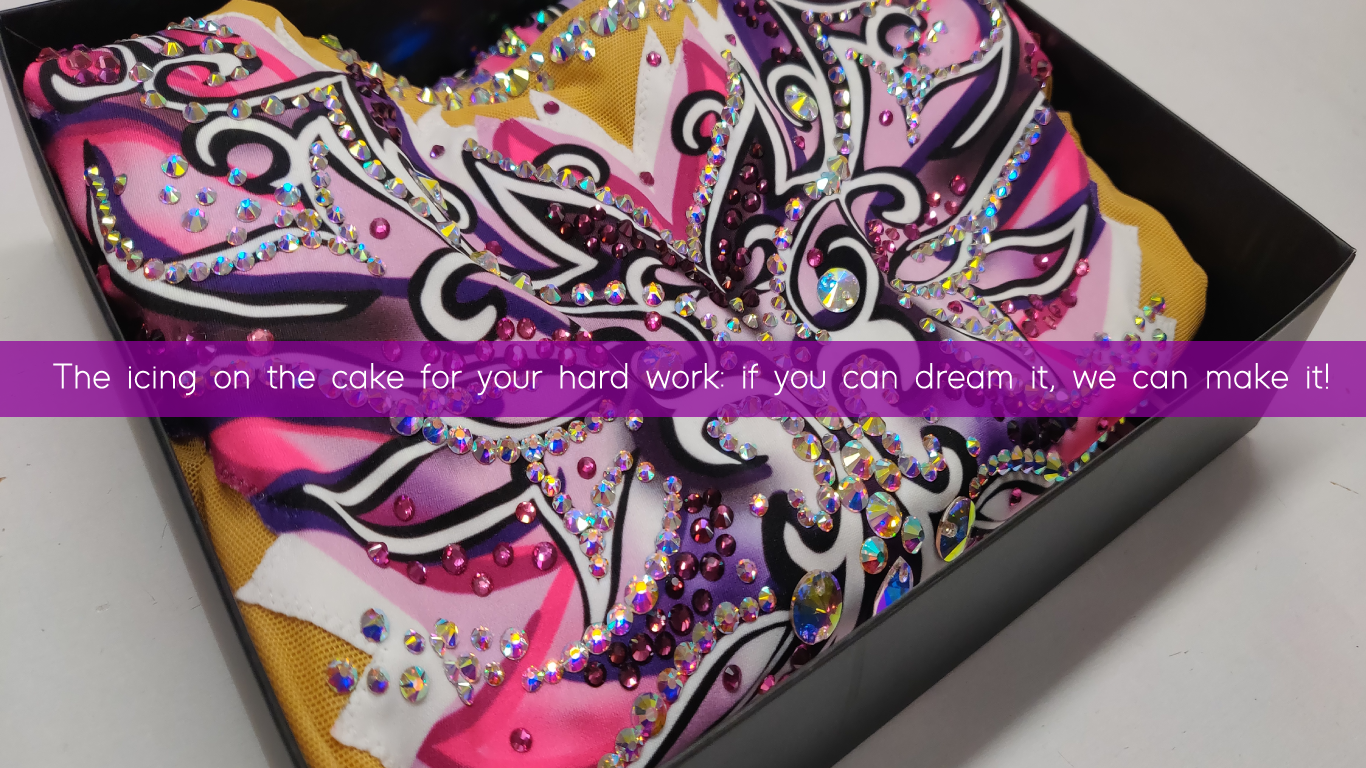 Hand made tailored leotards: info, prices and delivery time 
Procedure
Our exclusive leotards are specially made for you. The procedure to order one differs from normal online shopping. We are happy to explain how we work: 
If you want us to make you a leotard, the first thing we do is ask you information about you. What's your team, what level are you in, how old are you, what choreography style do you have, what music will you perform to. Also, you can share your wishes regarding style and colors. Do you prefer a long sleeved leotards, a pink skirt, high neck or a statement crystal necklace? Please share all your wishes so our designer can work their magic. We will optimize your design together until it's perfect. 
Because of the possible distance you don't have to come to our workshop for taking measurements. 
We will schedule a videocall to take the measurements together with you. In this meeting we can show you the fabrics and crystals you want us to use. There is an option to receive fitting leotards to check your sizes. We ship worldwide.
Prices 
Unfortunately it is not possible for us to stick one general price to all our handmade leotards. Every design is unique and labor costs and material cost differ for each and every leotard. However we can give you an indication of our prices for our skirted leotards. All exclusive leotards come what is standard amount of 1500 crystals, a scrunchie/hairpiece, washing instructions and a KV garment bag. 
Acrobatic leotards with skirts, sleeveless: starting at €350,-
Acrobatic leotards with skirts, short sleeves: starting at €400,-
Acrobatic leotards with skirts, long sleeves: starting at €500,-
Every increase of 500 crystals will result in an additional cost of €50,-
Delivery time of an exclusive leotard. 
The time of the year will affect the delivery time of your leotard. In the World of gymnastics there are competition seasons which define our deadlines. Most orders are made in June/July/August and have to be finished in December/January. This is our busiest time of the year. Therefore we don't work with a delivery time, but with a mutually agreed deadline. We will make sure your leotards will arrive on time
Reservations
Would you like us to make your exclusive leotard? We like that! Please don't wait too long to contact us to make a reservation. We only have several spots for exclusive leotards every season. You don't have to pay for a reservation: just send us an email ([email protected]). If, at a later moment in time, you decide to cancel your reservation, please let us know. You will make another team very happy by doing so.        
Our work
Curious to see our work? Please enjoy the video's and photo's below.