Our Acrobatic Leotards Collection is online again and ready to order! This time we have 10 places available for 10 teams. When we have reached this number this collection will be offline again. In March we will re-open again. Deliverytime is now 8 weeks. Leotards will be shipped between the end of February and the beginning of March. Thank you all!
Acrobatic Leotard KV21-04 is an absolutely gorgeous leotard with lots of details and pretty flowers. Because of the long lines, this leotard really extends the body when worn and gives you that petite waist. This designs has approximately 1500-1900 Premium KV Crystals (1500 on the sleeveless and short sleeved option and 1900 on the long sleeved option). 
Read this thorougly before ordering an Acrobatic Leotard!
Our (budgetproof) Acrobatic Leotards collection is developed and designed to meet your meets: budgetproof Acrobatic Leotards with a great fit and cool designs. For gymnasts who can't afford our over-the-top Exclusive Leotards or simply don't need them for the level they're competing in. This collection contains 13 different designs in standard gymnastics sizes which you can alter to your preferations to make it unique. 
We designed and developed this collection with great care. Since making Exclusive Acrobatic Leotards is our expertise, we have developed a sewing pattern that fits the body neatly and maximizes wearing comfort. All our leotards meet the currect FIG rules regarding attire. Also, our mesh skirts are attached to the lycra skirt in a way that it's easy for you to lower or higher them. This way your skirts won't be too short or too long. In this tutorial we explain how to do this. 
Information about our Acrobatic Leotards: 
- All Acrobatic Leotards that are personalised are NOT returnable! So when you alter the colors or choose a different length size, you will not be able to return the attire or exchange it to another size (unless it's damaged or incomplete). It is very important to take your measurements correctly and choose the right size! Before ordering, please watch this tutorial in which we explain how to do this. If you're not sure which size to order and you are stuck between two sizes: always choose the bigger size. Especially when the child is still growing. 
________________________________________________________________________________
The model on the photos (younger) is wearing a size CL and has the following measurements: 
Chest: 70
Waist: 63
Hips: 73
Body: 129
The model on the photos (older) is wearing a size AM and has the following measurements: 
Chest: 87
Waist: 70
Hips: 94
Body: 154
________________________________________________________________________________
- All Acrobatic Leotards have a standard delivery time of 6-8 weeks. 
- If you purchase an Acrobatic Leotard from this collection you will automatically get a 35% discount on our KV Crystal brand. It doesn't matter if you bought a leotard with or without crystals: every customer will get a 35% discount on all hotfix crystals, sew-on crystals and pearls. 
- With every design you can choose between two base fabrics: skincolor colored mesh or fully printed skincolor color (the shade of the skincolor can be adapted to meet your teint if desirable). The advantage of using mesh as a base fabric is that mesh has a more natural feel and look that is closer to actual skin. Also it gives it some depth because we are using different materials. However, this option is more expensive due to extra labour costs (we will have to stitch the design onto the mesh fabric). The other (cheaper) option is to choose a leotard that is fully printed. The advantage from this is that we are able to have some more details/shades printed onto the skincolor. See the photo below for reference.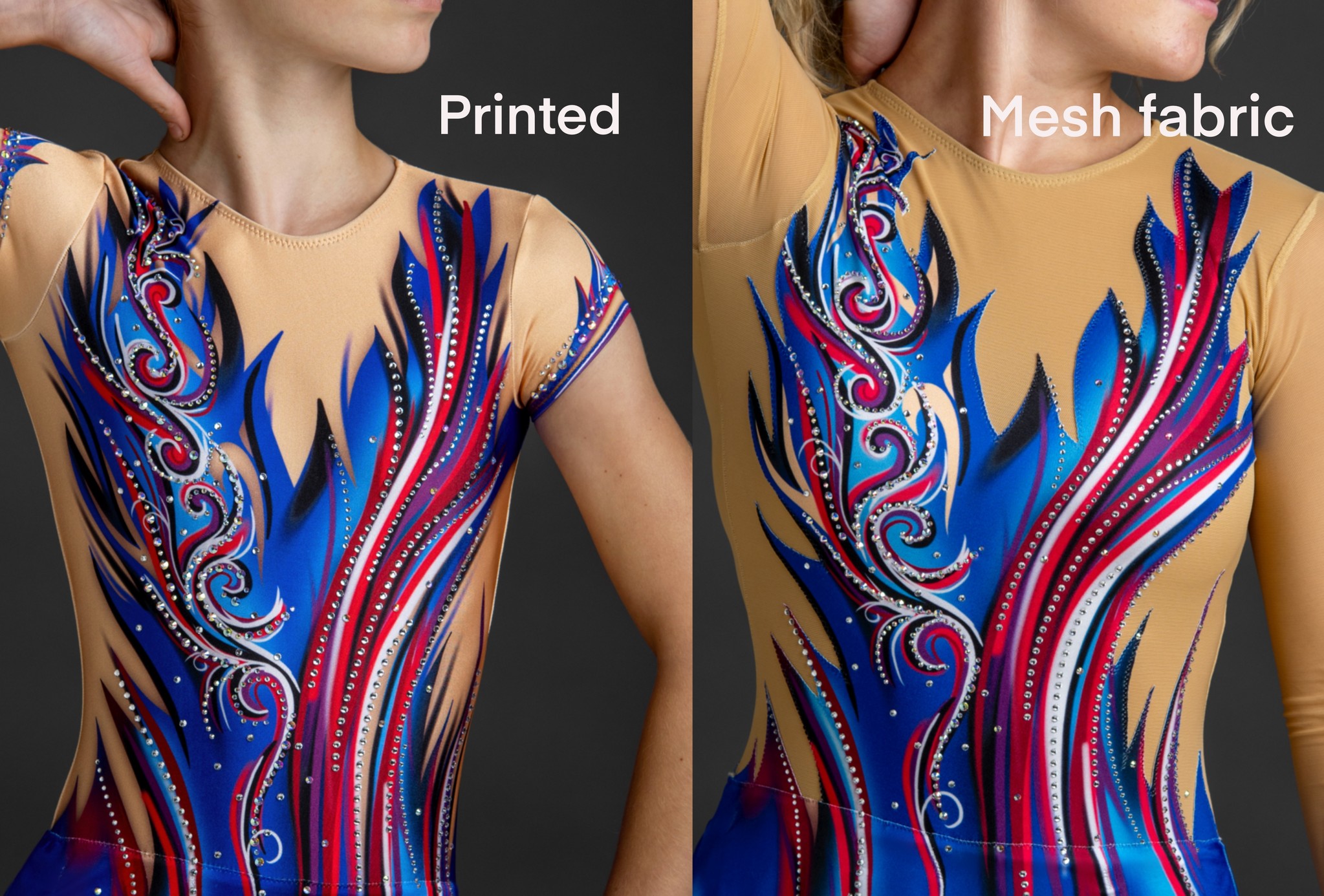 - All our leotards are made with a teardrop opening in the back and a little bra clasp. They also have the same neckline which cannot be altered into a high neckline (collar), lower neckline or a zipper in the back.
- With every design you have the opportunity to create your own unique color combination. If you would like choose your own colors please select the right checkbox. We will contact you so you can explain your desired colors. We will then make a new design with your new colors. 
- You can choose your preferred sleeve length with all our desings. The short and long sleeved option are shown on the pictures above. The sleeveless option is shown below: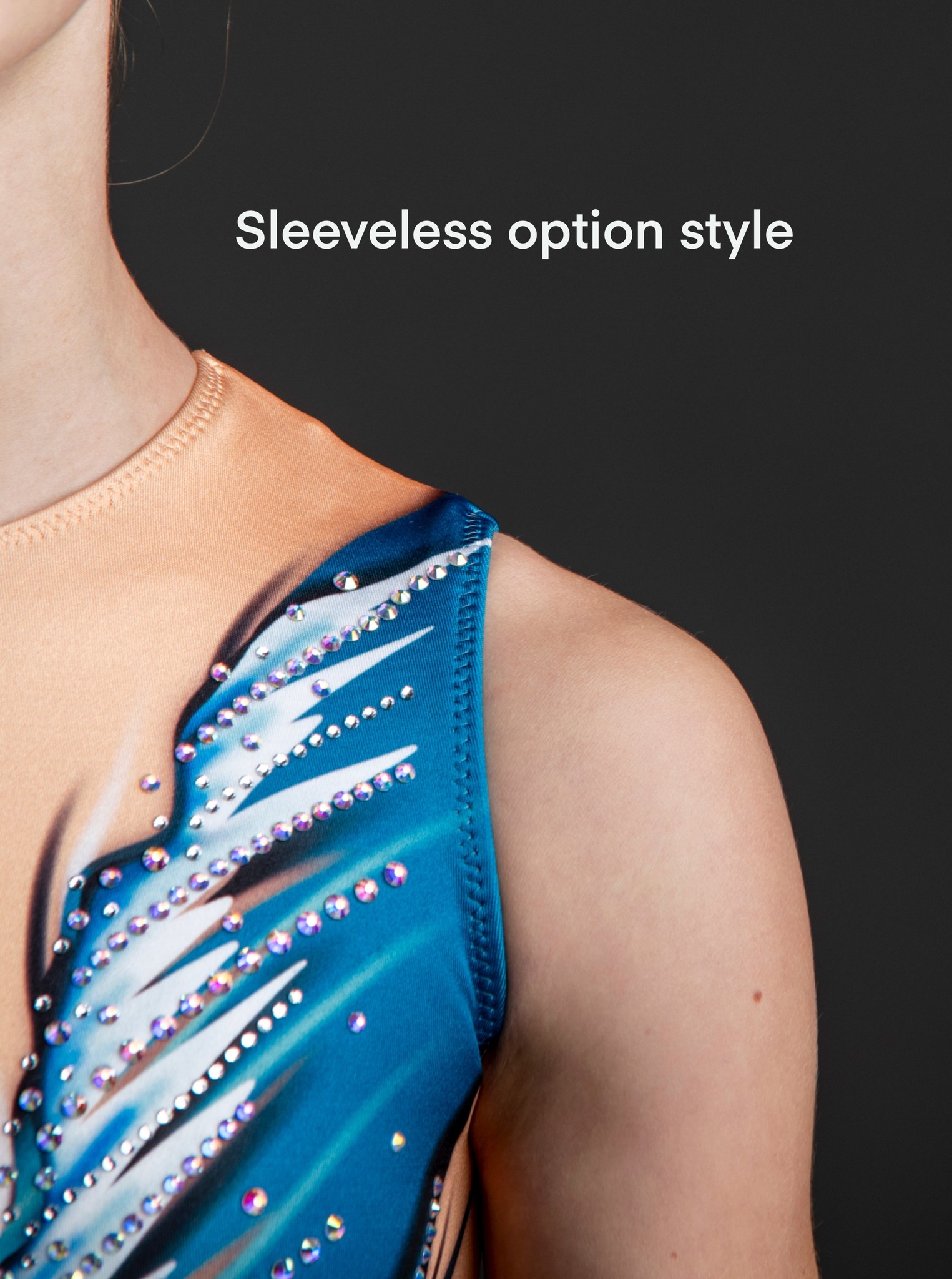 - All leotards come with a little ribbon that can be worn in the hair/around your bun. This ribbon will be in a non-choosable matching color. The size of the ribbon is approximately 1,5cm by 40cm. 
- All Acrobatic leotards are delivered in a luxury ziplock-bag with washing instructions.